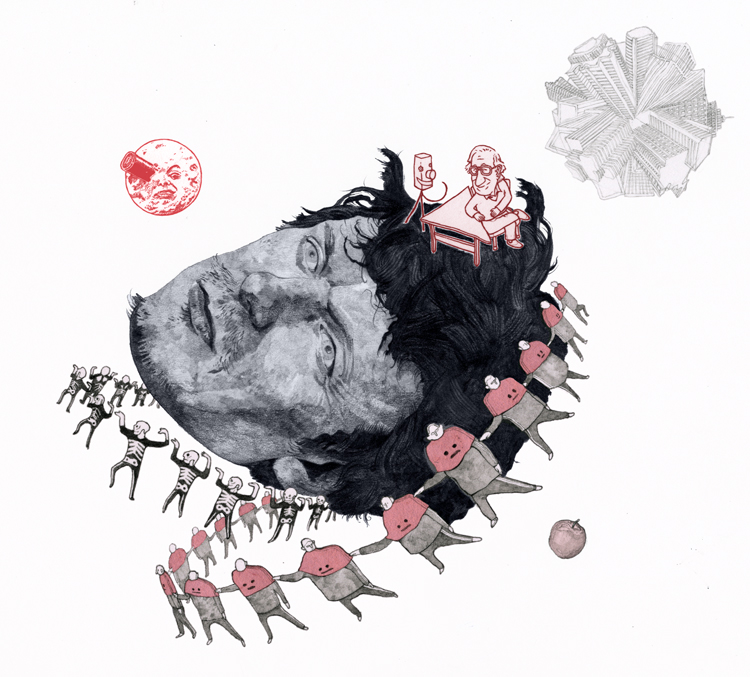 I have recently written and illustrated an article for XYZ Magazine, the Rhode Island School of Design's quarterly publication, about director Michel Gondry's visit and lecture to the school in October 2013. Special thanks to editor Liisa Silander and her staff.
Moved by Gondry
"Symbols, rock and roll, a black dog, stairways and drums. These elements may spontaneously evoke Led Zeppelin's fourth album, yet were the ingredients of French director Michel Gondry's screening and lecture at the RISD Auditorium on a warm October evening.
Not surprisingly for a man who has been 12 years old forever (sic), he appears youthful and speaks with a gentle voice, which belies the strong will and exceptional artistry evident in such memorable films as Eternal Sunshine of the Spotless Mind and The Science of Sleep, along with music videos for Björk, Daft Punk and The Chemical Brothers, among others.
Though Gondry's English may seem hesitant, it is clear that he plays with words and embraces misinterpretation at will, bending language and allowing it to amuse, defuse or enlighten. In his exchanges with students, this ability enables him to offer precise answers to convoluted questions—utilizing what might appear to be a limitation as a means of achieving clarity."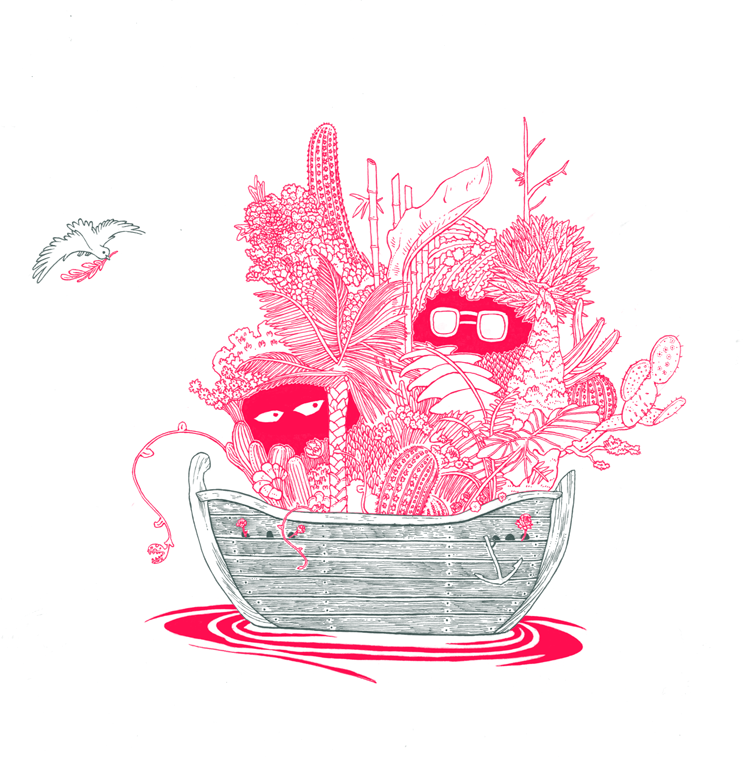 "Following the projection of four seminal music videos, Gondry casually shared a conviction which, I believe, can resonate with all artists. Halfway through the clip for The White Stripes' single "The Hardest Button to Button", the music is reduced to a monotonous bass drum beat, with sparse and occasional guitar notes. Gondry revealed that this breakdown, in his mind, was "the most boring" part of the song and that he asked the band if they might consider editing out the sequence for the sake of the video. Upon their refusal, Gondry committed to using his very best idea for this section, to compensate for the weakness of the original material.
For 21 captivating seconds, the band members travel in crossing sinusoidal paths in and out of a train and adjoining platform, in a pas de deux defying time and space. Gondry highlighted this problematic sequence as an example of a "black dog" (an amusing malapropism for the idiom "black sheep", all the more unexpected and stimulating to the imagination since the French equivalent, "mouton noir", is a sheep metaphor as well), the idea which is promptly discarded, dismissed upon initial impulse. Gondry likes to return to the garbage bin to retrieve this rejected idea, and believes that, with additional care as that which one would confer upon a troubled child, one eventually accomplishes the best creations. This resolve to transcend and sublimate apparent limitations, through inventiveness, refinement and persistence, is a defining feature of the creative spirit."
"Lights then dimmed for the only second-ever screening of Gondry's latest film, Is The Man Who Is Tall Happy?, a hand-drawn animated documentary of a series of conversations with Noam Chomsky—recorded over a two-year period between 2010 and 2012—focused on linguistics, science, religion and life. Gondry's flowing line drawings and cycle animations complement the spoken words as Chomsky jumps from theme to theme and hits notes at times edifying, contemplative or poignant.
By design Gondry modestly allows his own use of English to insert moments of humor or misunderstanding, adding his personal touch and contributing to Chomsky's stories. The moment of truth in the film—and the theory that motivated Gondry to make it—is a sequence in which Chomsky speaks of a leap forward—a mysterious event, possibly 100,000 years ago, which the erudite man marks as an evolutionary turning point. An unidentified phenomenon—presumably, an individual's sudden discovery and mastery of language—both accelerated the development of civilization and forever altered our common destiny, introducing the ability of humans to communicate complex thoughts and ideas with one another, and thereby to plan and further develop.
Given its sophisticated modalities and strong appeal to all the senses, Gondry and Chomsky's meandering conversation—so imaginatively documented in this new film—is the direct descendent of this phenomenon. Continuing in the long evolutionary line of language and communication, it is a poetic embodiment of human expression. Tall or short, every witness of this exchange must have left the auditorium happy."